I wore these two outfits on Saturday. In the daytime I went shopping and to Strawberry Fair (a kind of mini one-day festival in Cambridge), and in the evening I got my gladrags on and went out!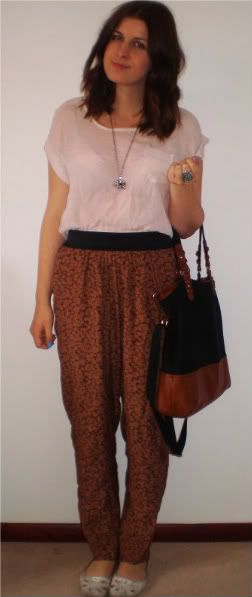 Left: t-shirt and trousers - Primark, bag - H&M, shoes - Topshop.
Right: t-shirt, skirt, belt and shoes - Primark, bag - H&M. (I need to buy less clothes from Primark!)
My guy friends took the piss out of my 'MC Hammer pants,' but I love them! And I like to think that if my male friends think my clothes are funny, it tends to mean that actually they're stylish :P
Daytime jewellery/shoes:
Green stone ring - market in Tenerife, thumb ring - stall in Cambridge, black stone ring - present from my boyfriend, pocket watch necklace - Camden market, nails - Blueberry by Barry M.
These Topshop beaded flats are pretty battered now but I still love them!
Nighttime jewellery: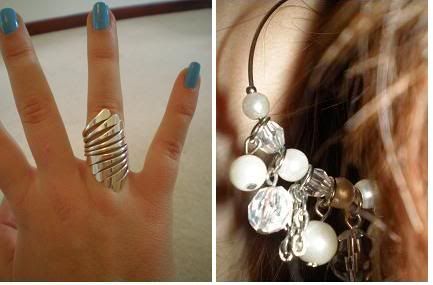 Ring - present from my parents, earrings - Topshop.
Sorry for the crappy layout of the photos, I still need to work out how to make my photos all neat and the same size! If anyone has any tips for how, please share!
Also, thanks to everyone who gave me advice on the boots in my last post! The general consensus was that I should get them, but I really need to stop spending money haha..however I've put them on hold for 30 days so I'm pretty sure I'll end up buying them :)